November 15, 2019 11:17 am | Category: Field Ticketing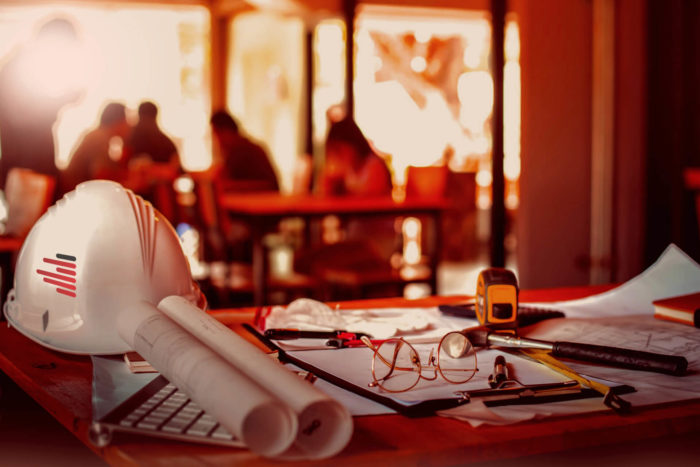 Precision Workflow makes digital process management achievable and easy. From procurement to invoicing, our software was designed to adapt to customer needs and ensure your business requirements are accounted for and satisfied every step of the way. Precision Workflow comes stocked with various templates and execution-ready processes, and was developed with the intent of being configurable, adaptable and customizable for our customers. With the objective of enhancing overall business performance, accuracy and accountability, Precision Workflow automates reporting, streamlining your specific operational needs for each department of your business. With a variety of easy to use and configurable tools, Precision Workflow empowers your business to perform on an all new level.
What can you expect from implementing Precision Workflow's E-Ticketing & Job/Project Management Enterprise Resource Planning Solution?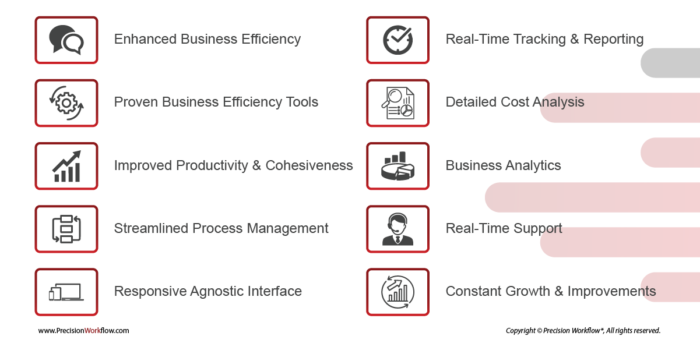 Precision Workflow Field Ticketing & Job/Project Management Software Tools are designed to eliminate redundancies, alleviate stressful mistakes and maximize your ability to perform. With instant access to accurate, detailed data and automated user process management tools, Precision Workflow provides the visibility your business needs to make performance enhancing decisions. Our software ensures that your business and staff all see immediate results from implementing Precision Workflow through real-time access to details. From automated timesheets to detailed Purchase Orders connected to an Inventory Management System, Precision Workflow makes managing processes easier while enhancing staff productivity.
With online and offline capabilities, Precision Workflow is a completely agnostic and responsive software platform. Why is this valuable and why should you care? This means that the software running your business has the capability to work on all desktops, tablets and mobile devices, giving you and your staff remote access to the software from anywhere at any time.
Precision Workflow works with businesses of all sizes, implementing, training and integrating digital solutions that enhance overall business efficiencies. Working with all areas of your business, our team can help you build, map and strategize the most effective way to digitally optimize your operational and invoicing processes. Our team believes in process, and we mandate documented workflows to ensure you're getting the most out of your business.
Accountability Through Visibility & Measurable Action Items Real-Time Visibility On All Equipment & Staff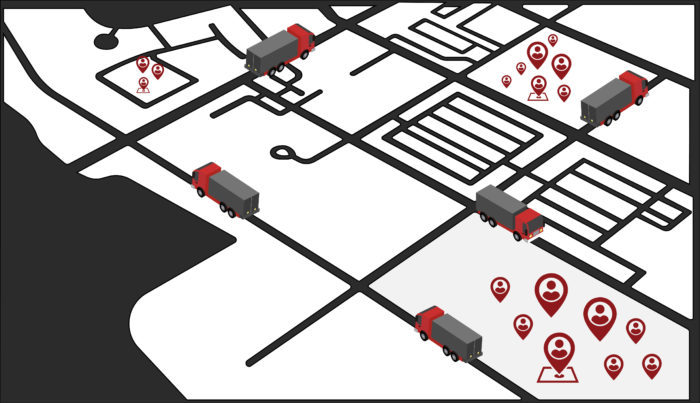 Precision Workflow ERP Software brings businesses together, enhancing their ability to organize, streamline, structure and implement processes that maximize success. Accountability can mean different things to different businesses; what Precision Workflow truly provides is visibility.
With visibility on each user logged in, resources, assets and a full Invoicing enterprise resource planning package, your business will have the tools needed to increase accountability and ensure your reporting is more accurate than ever.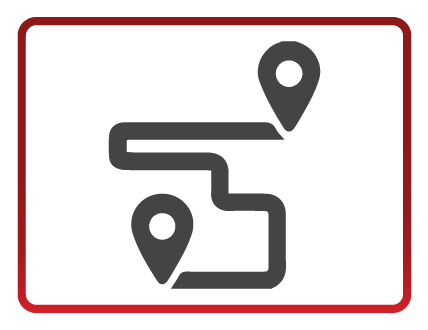 Digital Mapping Application – Uber-like map that shows all equipment, staff and contractors, providing an active view of all users.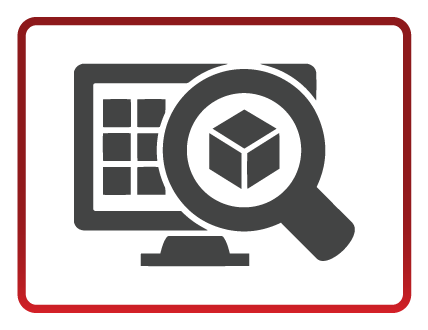 Procurement, Inventory & Material Allocation – Empower your staff to accurately track and record all required and unexpected purchases and expenses.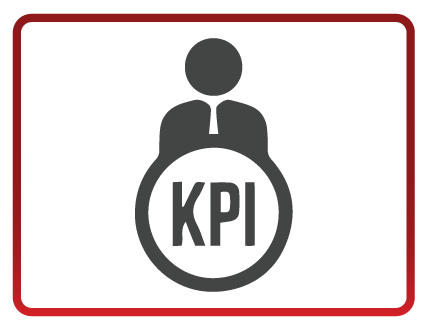 Key Performance Indicators – KPI tracking and performance-based reporting that helps you get the most out of resources.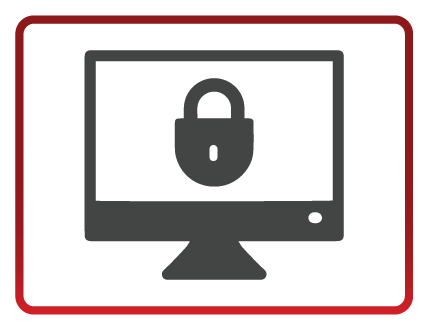 Digital Safety – Resource, job and site safety tracking and reporting that ensures your business is protected at all times.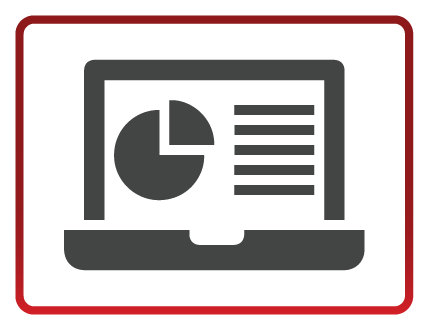 Decrease Data Entry – Reduce errors, streamline your approval processes and ensure your review processes are followed as quickly and efficiently as possible.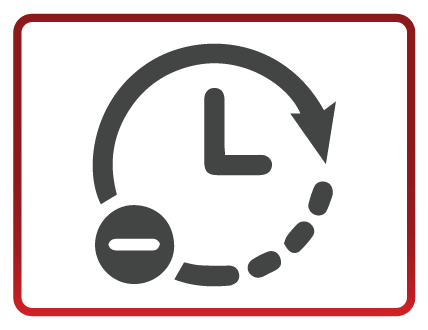 Reduce Time To Invoice – Enhance performance, capture digital signatures, increase approval response time and maximize your billables.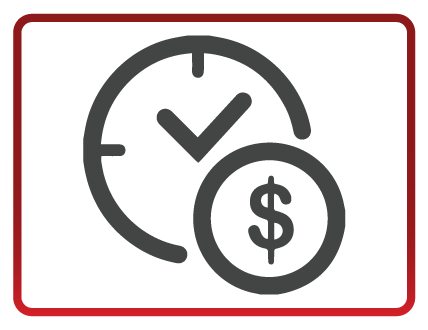 Capitalize On Real-Time Costing – With detailed analytics and a full ERP powering the software, Precision Workflow tracks all revenue, costing and performance in real-time.
Electronically managing jobs, ticketing, work orders, inventory, equipment, timesheets and workflows, Precision Workflow Enterprise Resource Planning Software gives you the visibility needed to make SMART decisions for your business. With all the facts and real-time data available to you anywhere, any time of day, your reporting and knowledge of operations will increase every day you're using the software. Precision Workflow was designed to grow with our customers by evolving and providing your business with access to the details needed.
Real-Time Budgeting, Job Costing & Status Reports
Don't guess where your business spending and earnings are coming from – track and report on them in real-time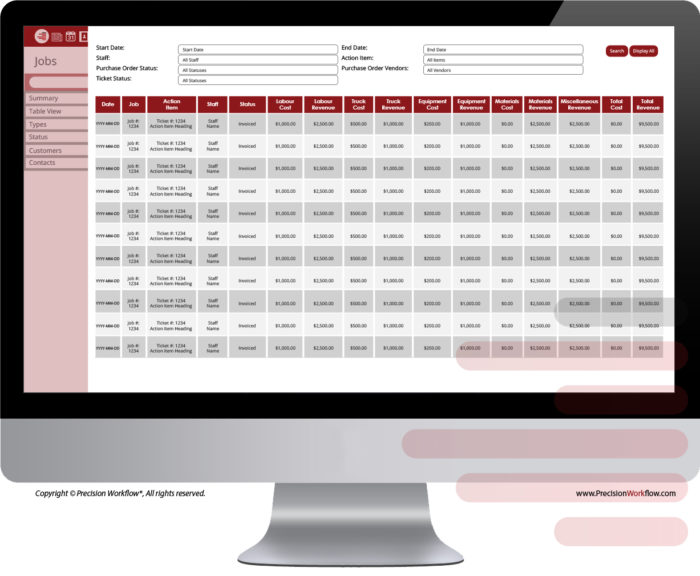 Precision Workflow process management and enterprise resource planning software empowers business with real-time revenue and job costing. Our detailed, one click status report system ensures you are never left guessing, as you always have access to exact financials. With detailed budgeting, revenue reporting and expense tracking systems, your business won't need to guess how to increase efficiencies and revenues; you'll know exactly where every dollar is going. Bring structure to your business with proven agile process management and business infrastructure software that enhances overall performance and communication.
With a fully integrated Customer Relationship Management (CRM) system, Precision Workflow supports businesses right from the promises made to customers via estimates, bids, quotes, digital contracts, all the way through to the execution via project, job, ticket and work management. Bring your business together like never before, increasing communication, reducing errors, streamlining operational processes and maximizing your revenues. Remove guesswork and manual processes, and gain instant access to the facts that will help your drive your business forward.
Implementation Processes, Training Workshops & Custom Configurations
Professional ERP experts that implement and execute digital processes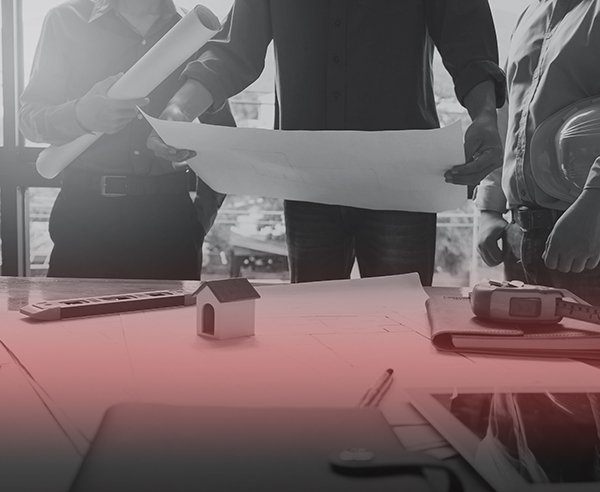 Getting the most out of software means ensuring you and your team know how to use it, manage it and get help when you need it. Our intuitive How To Guides, Software Manuals and hands-on training applications support implementations for companies of all sizes. Review the various Workshops offered to build a training program that matches your exact needs. With workflow mapping, hands-on strategizing and classroom Workshops, you can rest assured that your staff will have the training they need to successfully utilize the software to its full potential.
Did you know that you can customize your software with your own training material?
With so many configurations and custom settings available, Precision Workflow can customize your software with your business specific training requirements. Our intuitive videos and PDF worksheets provide information and how to guides; just another feature offered by Precision Workflow to ensure you get the most out of implementing lean process management software.